Our History
The Dream occurred many years ago. In 2004, the dream became reality when Guy and I started talking about a retreat center. We had many discussions of what 'would be' but did not have a clear plan. He kept telling me that the property would define itself. And so it did, beginning with the name. We had discussed many possibilities but nothing seemed right. One morning, as Guy was watching the mist dance along the surface and rise above the Broad River, he knew the name. RiverMist was born.

Our Mission
To provide a private and natural environment for retreats, group gatherings and life celebrations.

What we do
Retreats: individual and small groups, directed and self-directed
Group gatherings: Scout troops, youth groups, birders and any group (work or social) who want to gather intentionally for a common purpose are welcome. Catering can be provided.

Life Celebrations: Ceremonies include weddings, vow renewals, adult baptism, infant baptism, baby blessings and memorial services. Other ceremonies and rituals can be designed according to individual requests.

Who we are
Victoria: After my first career in ITS, I completed a clinical pastoral education program and chaplain internship and began serving as a Hospice chaplain. My ministry has evolved to include all of life's celebrations. I lead workshops and retreats at our center and throughout the Carolinas.

Guy: I spent too many years wearing a coat and tie, working up the executive ladder. (try to find a tie in my house now) My career in ITS moved in sevearal directions, including years as manager for the City of Charlotte and then Director of Technology for the Cabarrus County school system. And now I'm back to the place where I belong, clearing land and blazing trails. A little fishing and hunting thrown in. It just doesn't get an better!

Together: We have four children and three more have joined us by marriage. We have two granddaughters and two grandsons. We have lots of noisy family fun.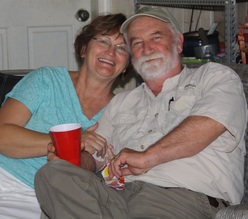 Our Vision
To stay so busy we don't have time to die.
Love is the answer.
Now, what was the question?