Elope to North Carolina
Elopements and Private Weddings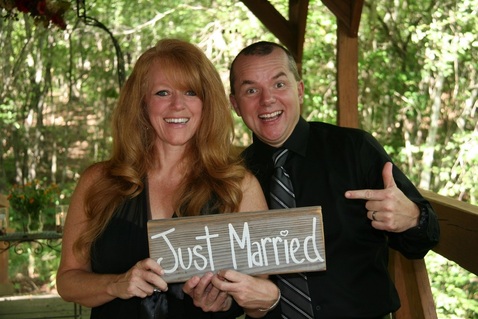 Are you looking for a private place to elope in North Carolina that is romantic, intimate, stress-free and budget friendly?
RiverMist,
located between Charlotte and Asheville provides beautiful, personal and affordable weddings for couples who prefer something fun, intimate and private.Several secluded locations available: covered bridge/outdoor wedding chapel, creekside, under a canopy of trees, or dockside, overlooking the Broad River.Weekdays, evenings, weekends & holidays. Witnesses provided.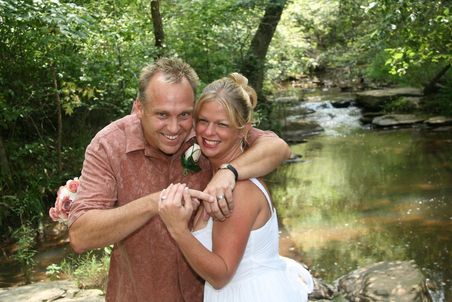 Why Elope?

It's fun
It's easy
It's quick
It's romantic
It's affordable
---
*** You must have a valid North Carolina marriage license, obtained from the Register of Deeds Office in any NC county.

Custom Elopement Package
Non-denominational minister
Personalized ceremony (religious or non-religious)
Unlimited email and phone support
Access to library of wedding resources
Unity ceremonies and special elements
Recorded Music (personal selections)
Decorations
Private dressing area
Keepsake certificate
Digital Photo DVD
Filing completed license
Up to 12 guests

Optional items: bouquet/boutonniere,
mini-reception (petite wedding cake, sparkling beverage
with keepsake champagne flutes)
Short and Sweet
Non-denominational minister
Prewritten ceremony
Keepsake Certificate
Filing Completed license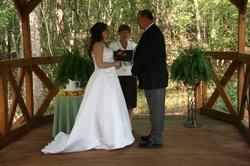 ---
Kind Words... from real people

Victoria and Guy,
Thank you for such an amazing time here. When Jane and I decided to get married and have
a small outdoor union we could not have imagined anything like this. The ceremony was
truly special and was something we will remember the rest of our lives. Victoria, you did
a beautiful job customizing the ceremony to match the love Jane and I share and will
continue to share for eternity. You have given us the perfect start to our life together. The
cabin is wonderful and we enjoyed it so much. I am sure Jane and I will be back, as this is
where our life together has started. We will cherish this time forever. Again thank you both
for such a wonderful and the memories. Till next time, Doug and Jane

Thank you so much Victoria and Guy, for opening your hearts and home to us. We had the
perfect wedding on the covered bridge. The ceremony was absolutely perfect for us. We are
so blessed to have found you and Rivermist. It was exactly what we wanted - a beautiful
outdoor wedding. So peaceful and serene. Thank you again for your hospitality and love.
Helen and Clay

Tim and I are blessed to have discovered RiverMist. In our search to make our union as
husband and wife a memorable one ~ in a simple way ~ the Google search led us here!
Victoria, the communication and personalization you gave was simply amazing. We felt like
we had known you forever, even before we met. Guy, your pictures were nothing short of
'picture perfect'. Bless you both for the unforgettable opportunity. The cabin is the perfect
low key get away? We really enjoyed it. Michelle and Tim

Max and I are so grateful and blessed to have found Rivermist for our wedding. Victoria and
Guy, words can't express how we truly feel about just how special and stress free you made
our wedding. You guys did it all and made the day so special and memorable. I only wish we
could have stayed more than one night! Thank you soooo much and we will be back. :-)
Lynn and Max

Victoria and Guy,
I could not have dreamed of a more perfect place to celebrate a brand new life with my best
friend. After much indecisive changing of plans.... I quite accidently stumbled upon Rivermist.
Let me just tell you the pictures online do this place no justice. There couldn't be a more
perfect place with such kind, helpful and caring people. Although all of our contact was
thru email, and I must say I was a little leery of it at first, when we arrived, I knew we had
selected the perfect place! Thank you both so much for allowing Sam and I to begin our new
lives together at your location. Our day was absolutely perfect!! We will most definitely
return and make new memories here @ Rivermist!! Again thank you both, Sam and Brandy

Guy and Victoria,
RiverMist was the perfect decision for us! the river house, the dock, the location, the porch..
it was made for us. (and many others to come!) There is absolutely nothing I would have
change or done differently. We have enjoyed our time here with family & the closest of
friends. It is the 'ultimate' intimate setting. We loved every moment here and hope to return
for a longer stay in this peaceful, loving, serene place. It will forever be a piece of our hearts
and where we start this chapter of our lives together. Thank you, Tomi & Tyson

What a magical place! We enjoyed our stay so much and are so appreciative to Victoria and
Guy for giving us the perfect wedding for our special day. The covered bridge and beautiful
scenery will forever be imprinted in our minds and Rivermist will always hold a special
place in our hearts. Thank you both!! Ryan and Darrow